This article was inspired by explorations in modality within compensation published earlier by Dan Luu in "Is dev compensation bimodal?" and Gergely in "The Trimodal Nature of Software Engineering Salaries in the Netherlands and Europe"
Doing an internship is a great way to start building your future career, but there's something that often confuses people - the fact that software engineer internship salaries are usually split into three groups. By understanding the trimodal nature of internship salaries, you can make better choices about your career path and income expectations.
We've been collecting internship salaries for several years now. You can explore the full set of data on our Internships page.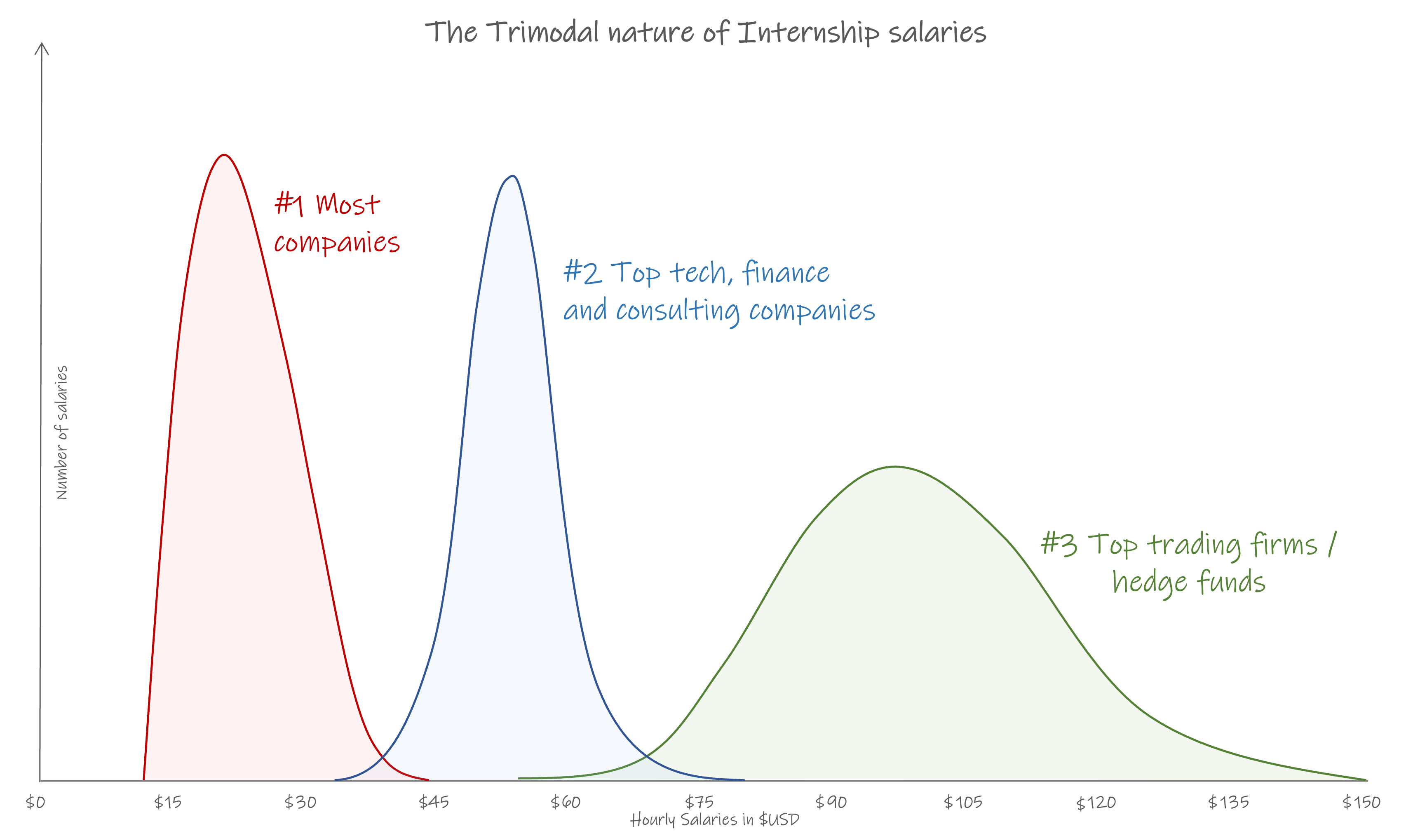 Exploring the Entry Point
In most companies, intern salaries tend to be on the low side. The majority of software engineer internships pay between $20 and $35 an hour. This includes internships in retail, hospitality, consulting, and manufacturing. Even though these jobs may pay less, it's a great chance to gain experience in different fields and learn transferable skills.
While the salary range in most companies tends to be lower compared to finance and tech, there is still some variation. A few salaries exceed $40 per hour, which demonstrates the possibility of finding higher-paying software engineer internships within general companies.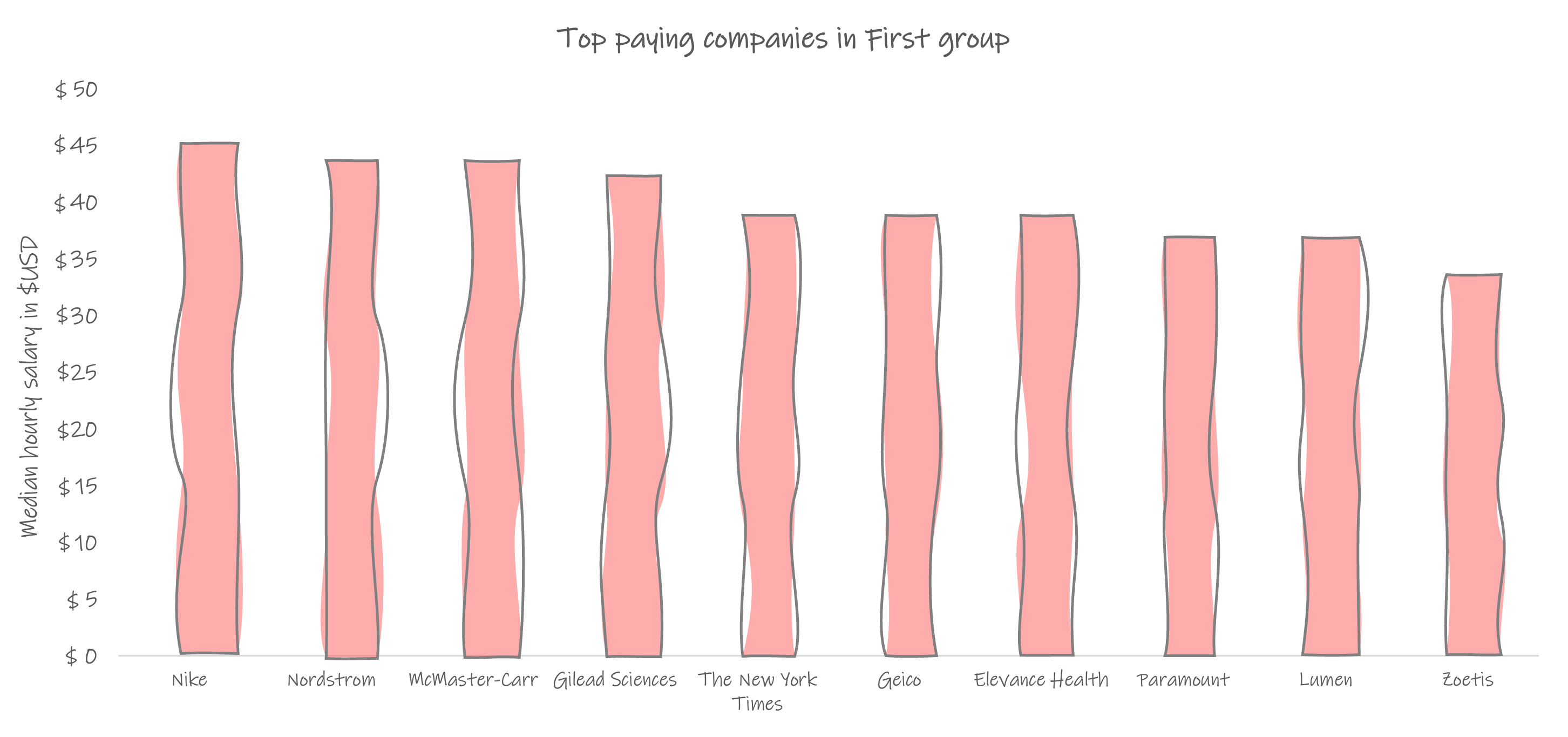 The Middle Ground
Most tech companies pay between $45 and $60 an hour, but there are also some high-paying software engineer internships available, paying over $65 an hour. These are usually with well-established companies or startups that have had successful funding rounds. Some of the top paying companies in this category include Netflix, Kensho, Snap, and Nuro.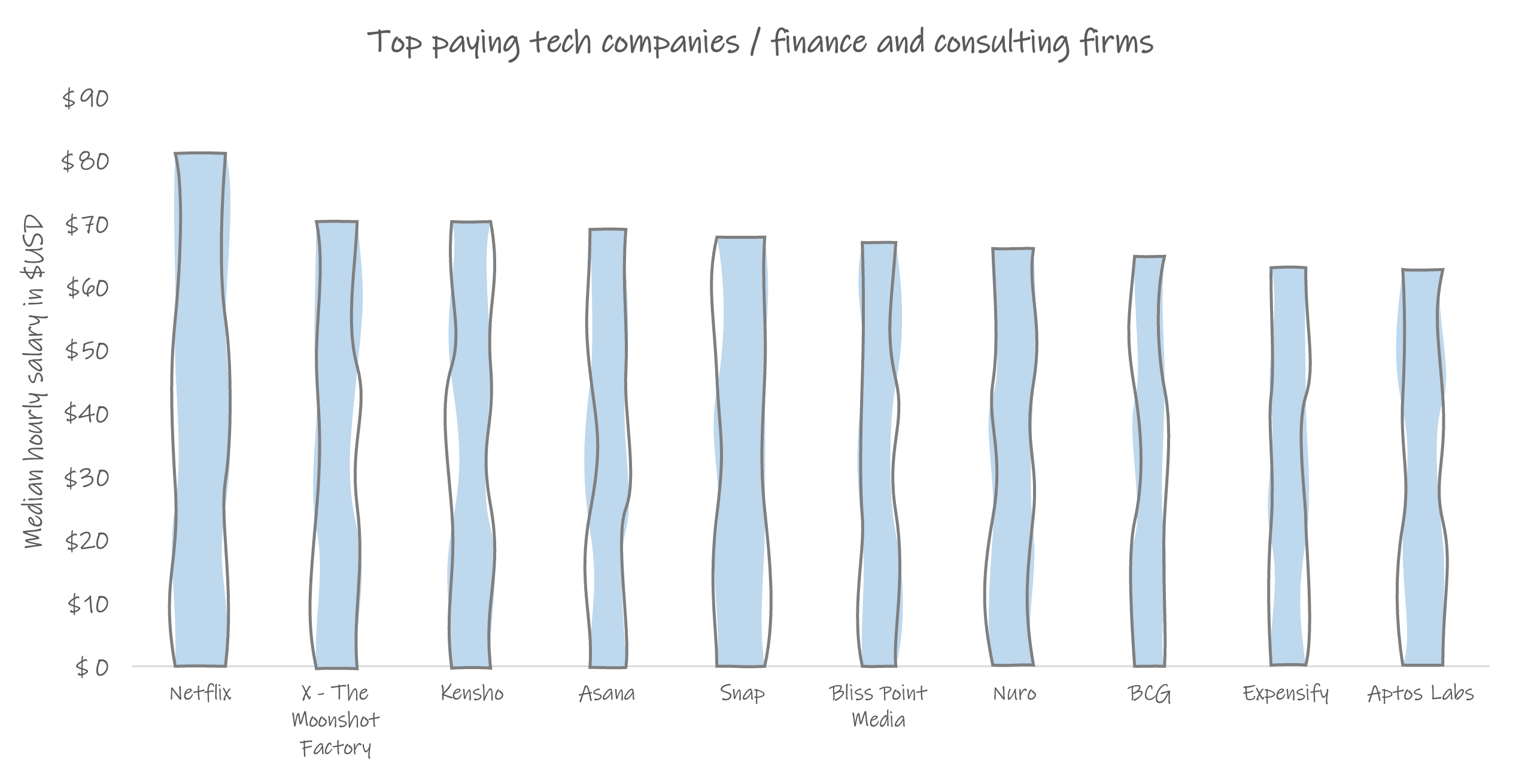 The Top End
Internships in trading companies and hedge funds are often associated with salaries on the higher side of the scale. The majority of these companies pay between $75 and $120 an hour.
There are certain companies that go above and beyond when it comes to compensating their interns, such as Radix Trading and Vatic Investments offering intern salaries of $150 per hour!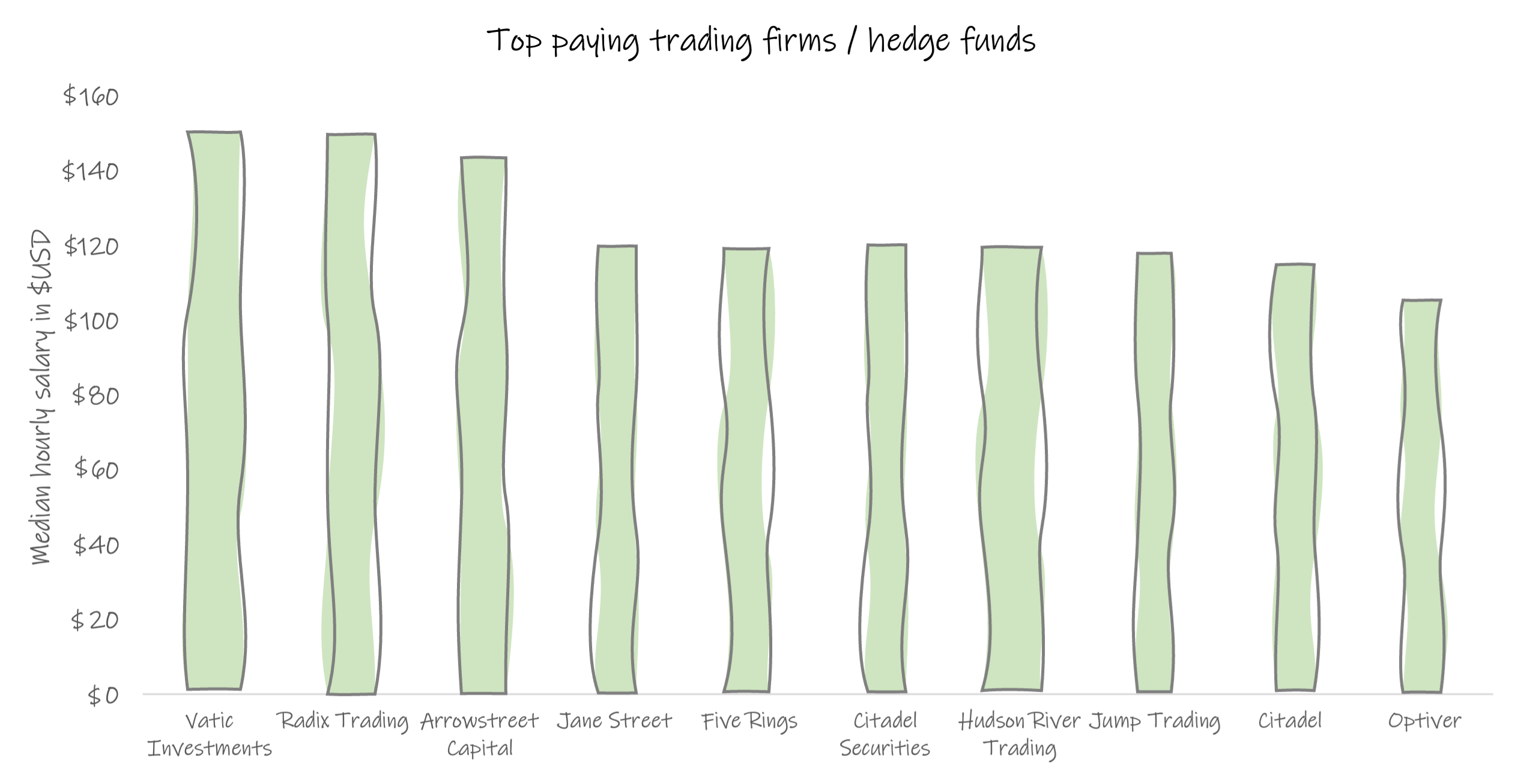 Taking a closer look at these high-paying opportunities brings us to the Top Paying US Metros for software engineer interns:
| Location | Median Pay (USD) |
| --- | --- |
| San Francisco Bay Area | $52 |
| New York City Area | $52 |
| Greater Chicago Area | $51 |
| Greater Seattle Area | $50 |
| Greater Boston Area | $47 |
| Greater San Diego Area | $46 |
| Greater Los Angeles Area | $43 |
| Greater Austin Area | $38 |
| Greater Dallas Area | $34 |
| Atlanta Area | $30 |
The San Francisco Bay Area and New York City Area offer the highest salaries, both at $52 per hour, indicating great earning potential opportunities for interns in these regions. The Greater Chicago Area follows closely with a median salary of $51 per hour.
Other notable metros include the Greater Seattle Area with $50, Greater Boston Area with $47, and Greater San Diego Area with $46. Meanwhile, the Greater Los Angeles Area offers a median salary of $43 per hour. The Greater Austin Area, Greater Dallas Area, and Atlanta Area provide relatively lower salaries, with medians ranging from $30 to $38 per hour.
Other Benefits
Companies often provide additional benefits to enhance the overall internship experience and support the interns' well-being. Here are some popular perks to keep in mind: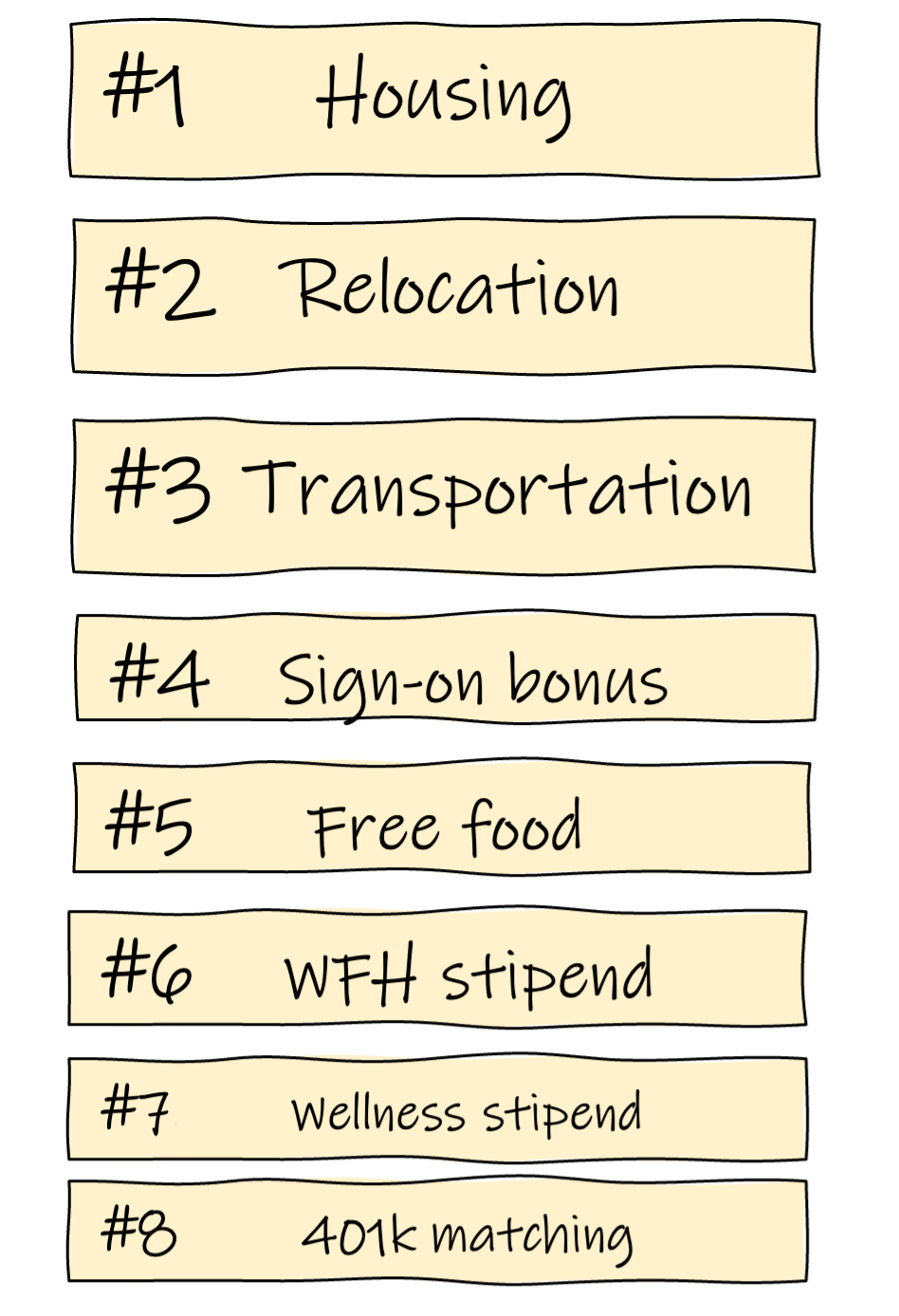 Internships that require relocation often include housing benefits. Companies may offer housing allowances with the range of $1,000 / mo to $6,000 / mo or provide accommodations directly.
If the internship requires interns to move to a new city, relocation benefits ranging from $500 to $8,000 can help cover the costs associated with moving.
Some companies offer transportation benefits to help interns commute to work and the range for these benefits typically falls between $135 and $1,200.
In addition to the salary, companies may offer a sign-on bonus to motivate interns to join their team. Sign-on bonuses can range from $1,000 to $25,000, providing a financial boost at the start of the internship.
Many companies also offer free meals or daily lunch options. With the rise of remote work, companies started providing work-from-home (WFH) stipend which can range from $150 to $2,000. To prioritize intern well-being, companies may offer a wellness stipend which usually ranges from $75 / mo to $200 / mo.
Some companies also extend their 401k retirement savings plans to interns, providing an opportunity to save for the future. Through 401k matching, the company contributes a portion to the intern's retirement savings based on their own contributions.
Considerations
Salary and benefits are just one aspect to consider. The quality of the internship experience can vary drastically across companies. What kinds of projects will you work on? How much support will you have from full-timers? From a long-term career perspective it's worth considering these other factors higher depending on your personal circumstances.
---
Looking for internships? Be sure to use our internships page 🎓