Whether you're a software engineer, product manager, or another tech professional, we've gathered a collection of the best job boards for you to use in your job search.
The current market has been crazy for tech professionals and there are a lot of questions around how to best find a job and what resources are there out there. We wanted to share a list of what we think are going to be the most helpful for you on the job hunt.
Since there are so many options out there, we wanted to focus our efforts on the top 5 job boards, and we'll include honorable mentions for others at the bottom as well!
Levels.fyi Jobs
Unique Features: Advanced filtering by compensation, leveling, remote locations, benefits, and more. AI-powered search.
Of course, we're a little biased, but we think the Levels.fyi Jobs Board is the best way to find tech jobs. We've iterated on plenty of community feedback and are continuing to grow and improve the job board. Get everything a standard job board has, plus advanced features like being able to filter your level or even search for specific benefits a company offers!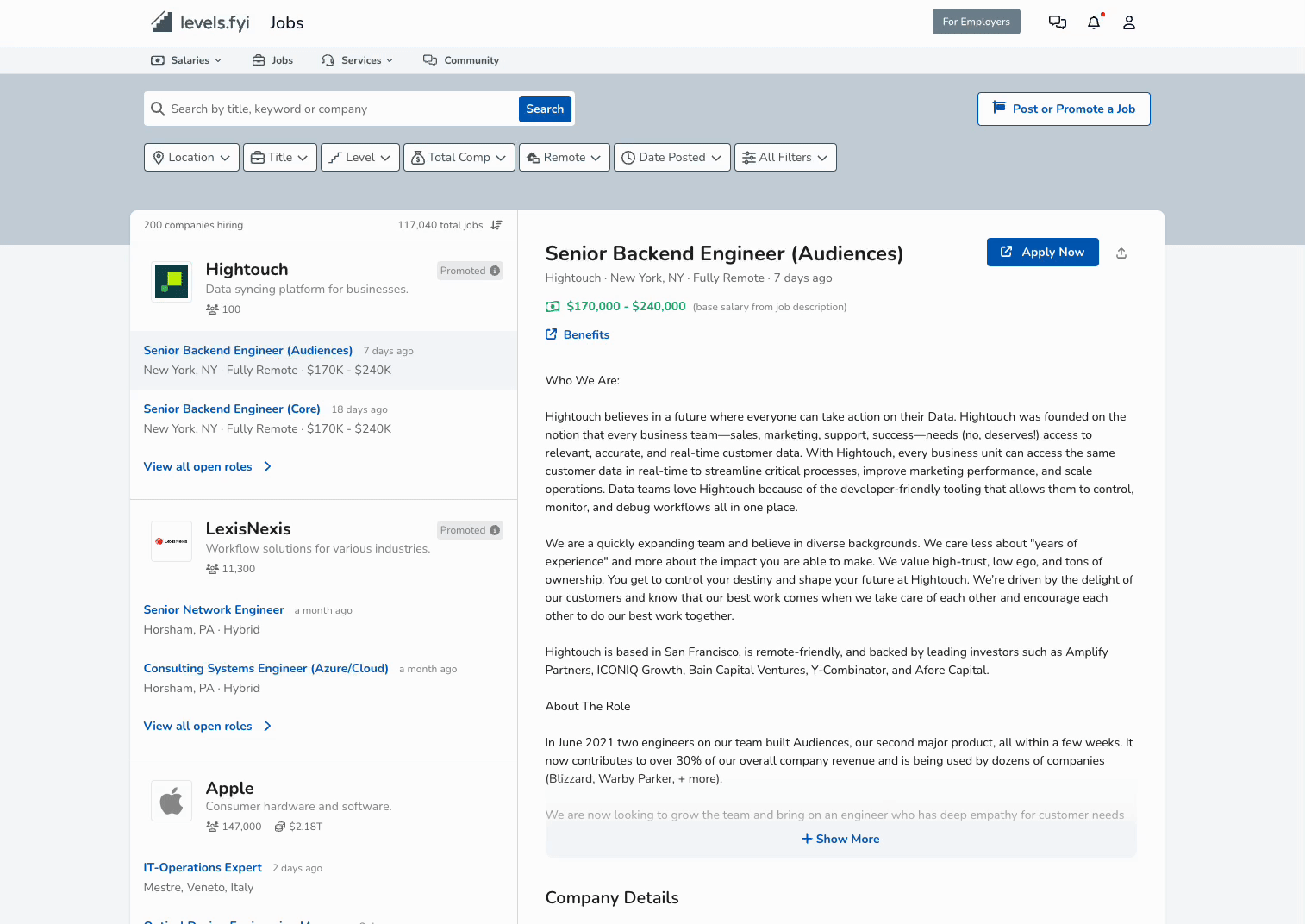 LinkedIn Jobs
Unique Features: Easy apply, community volume.
LinkedIn Jobs is what many would consider the best first step. As one of the top professional communities online, LinkedIn has a lot of useful visibility and job searching tools, especially for tech professionals. Even if you aren't finding the best opportunities on there, having a detailed LinkedIn profile will be hugely beneficial for your job search.
Wellfound (formerly AngelList Talent)
Unique Features: Startup focus, employer engagement
Wellfound, best known by its former name, AngelList, is a startup-focused job board that engages with plenty of startup employers for recruiting. If you're looking outside of FAANG and want to join a unique startup, this would be a great board to check out!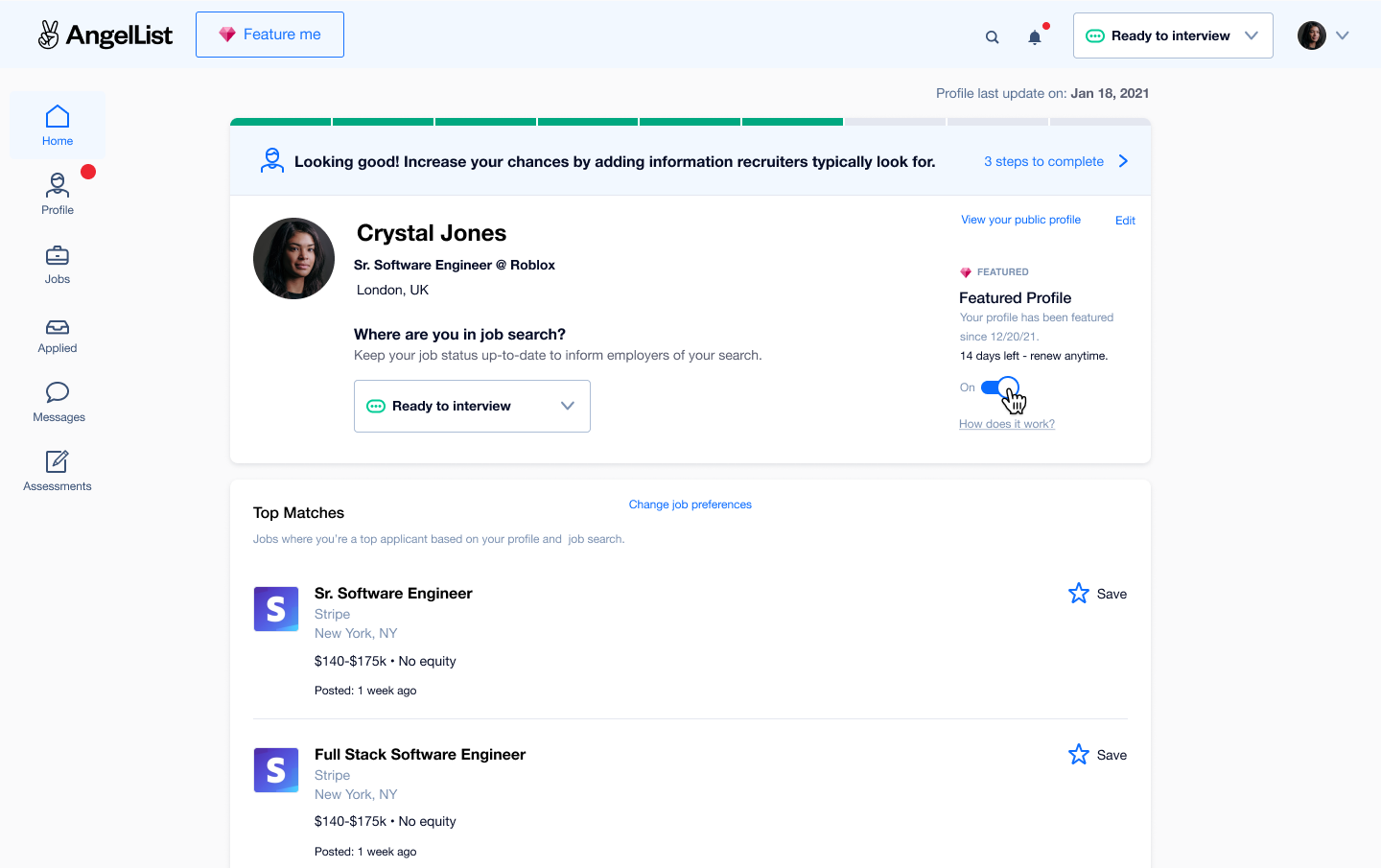 WeWorkRemotely
Unique Features: Remote focus
WeWorkRemotely claims to be one of the largest remote-work communities. They have job categories ranging from your standard tech roles to customer support and sales and marketing. If you're looking for remote-specific work, inside and outside of tech, check them out as well.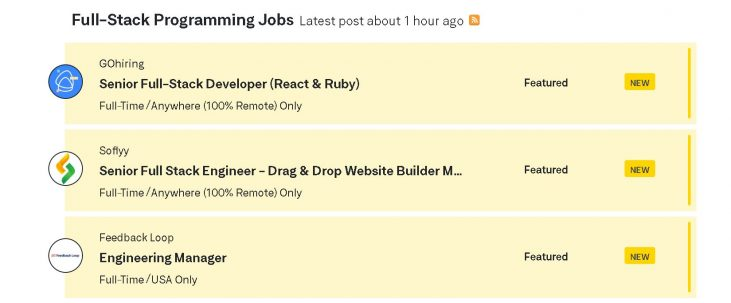 Indeed
Unique Features: Size and scale
Indeed is probably one of the most popular job boards out there across all industries. While they don't target much of a specific industry or skillset, the sheer volume and activity on the site is worth paying attention to. It'd be a great resource to take a quick look at any openings you might be interested in.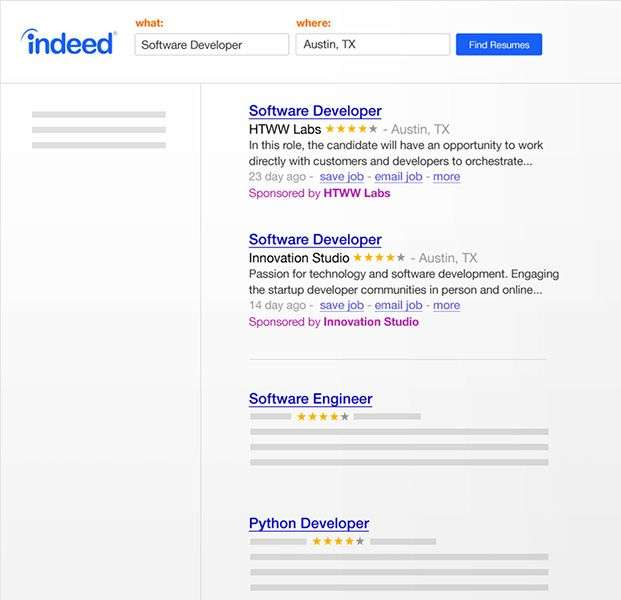 Honorable Mentions
In no particular order:
Other Helpful Resources
Resume Coaching – Whether your about to start applying or just want to refresh your resume, coaching can go a long way in ensuring you're set up for success! Check out our resume coaching where a coach with real tech industry recruiting experience will give you personalized advice on how to attract the attention of recruiters.
Interview Prep/Career Coaching – Already started on the job hunt? Get some help with interview prep or career coaching to ensure you're giving yourself the best chance of getting that job and growing your career.
Negotiation Coaching – Once you've got an offer, make sure you're not leaving anything on the table. Book a free consultation with us to see how we can help increase your offer!