The following report examines data we've collected this past half of the year and dives into the top paying companies. You can view last year's report here.
Check out our Competitive Insight offerings, which includes exclusive insights on top company's compensation structures.
Trends
The data reveals some great news when it comes to the median total compensation in the United States across the board. So far in 2023, most roles experienced a positive trend with notable increases. Key roles that experienced significant growth includes Software Engineering Managers, with a 5% increase in median total compensation, and Technical Program Managers, with a 4.8% increase.
However, not all roles experienced gains. Software Engineers' median compensation remained constant at $170,000, while Sales had a slight decrease of 0.3% in median total compensation.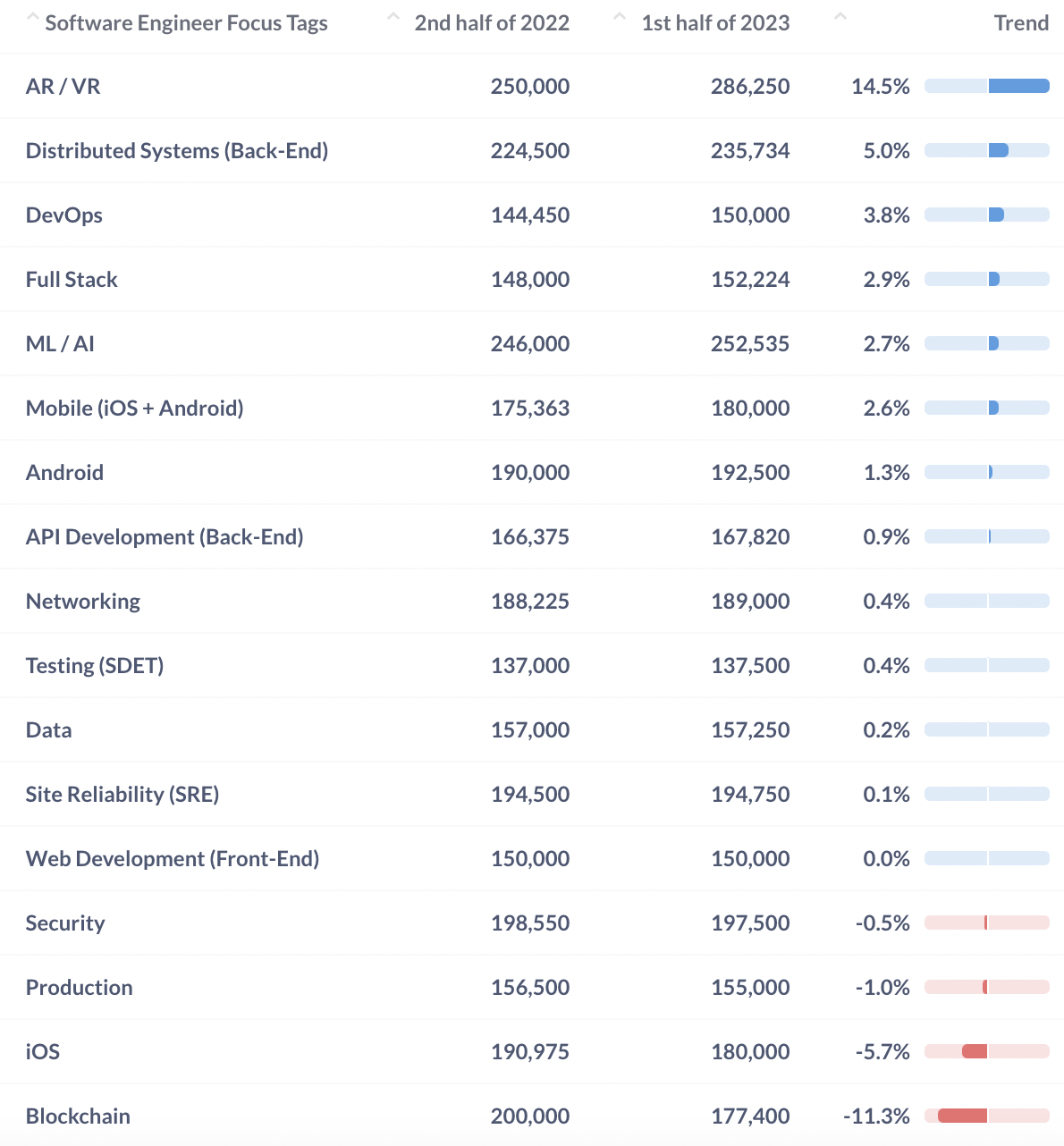 There are also positive trends in compensation within Software Engineer specialized focus areas.
Among the various focus areas analyzed, Augmented Reality / Virtual Reality (AR / VR) stood out with an impressive growth rate of 14.5% in median total compensation. Several other areas demonstrated consistent growth, including Distributed Systems (Back-End), DevOps, Full Stack, ML/AI, and Mobile (iOS + Android).
On the other hand, some focus areas, such as Security, Production, Site Reliability (SRE), and iOS, observed minor changes or slight decreases in median total compensation, while Blockchain engineers faced a significant decline of -11.3%.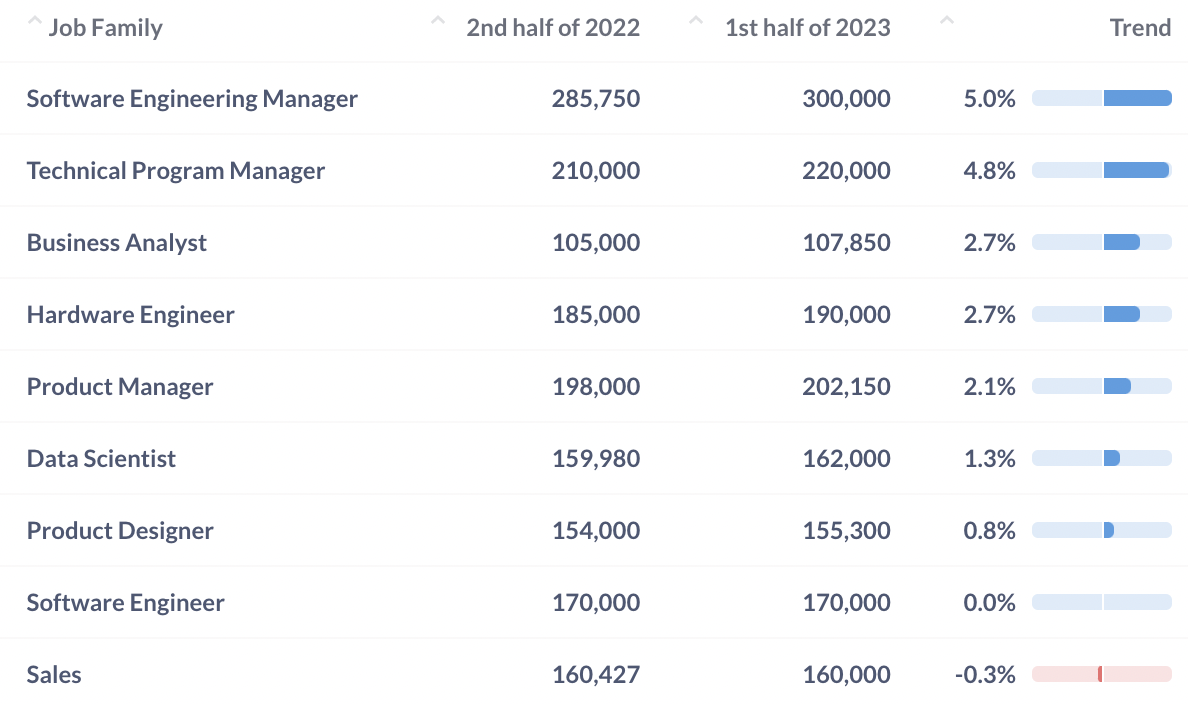 For data on more roles, check out our leaderboard pages. Have an offer? We'll help you negotiate it.
Top Pay by Engineering Level
Compensation figures below reflect median total yearly compensation including salary, stock, and bonuses in USD collected from 2023 so far. We utilize the Levels.fyi standard software engineer leveling framework to normalize leveling across different companies.
Entry-Level Engineer (I)
Databricks takes the lead at this level with a median total compensation of $274,200 demonstrating their commitment to attracting top talent right from the start. Flexport and Snowflake also offer competitive compensation packages.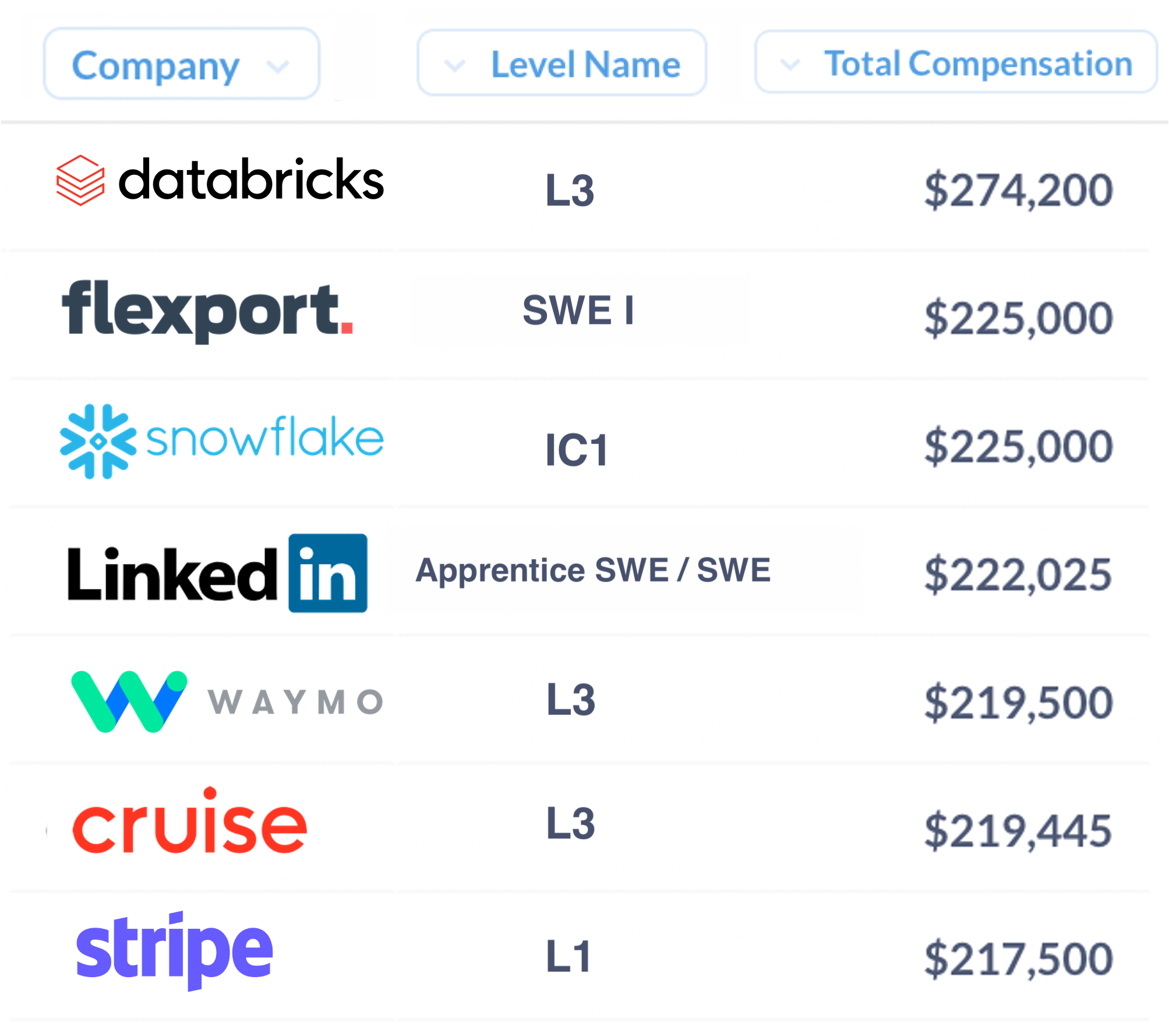 Engineer (II)
Databricks maintains its position as a top-paying company for engineers at the second level, offering a median total compensation of $385,850. Roblox and Snowflake also make their mark at this level.
Senior Engineer (III)
At the senior engineer level, Databricks once again leads the pack providing a median total compensation of $584,250. Netflix and Roblox also offer substantial compensation packages.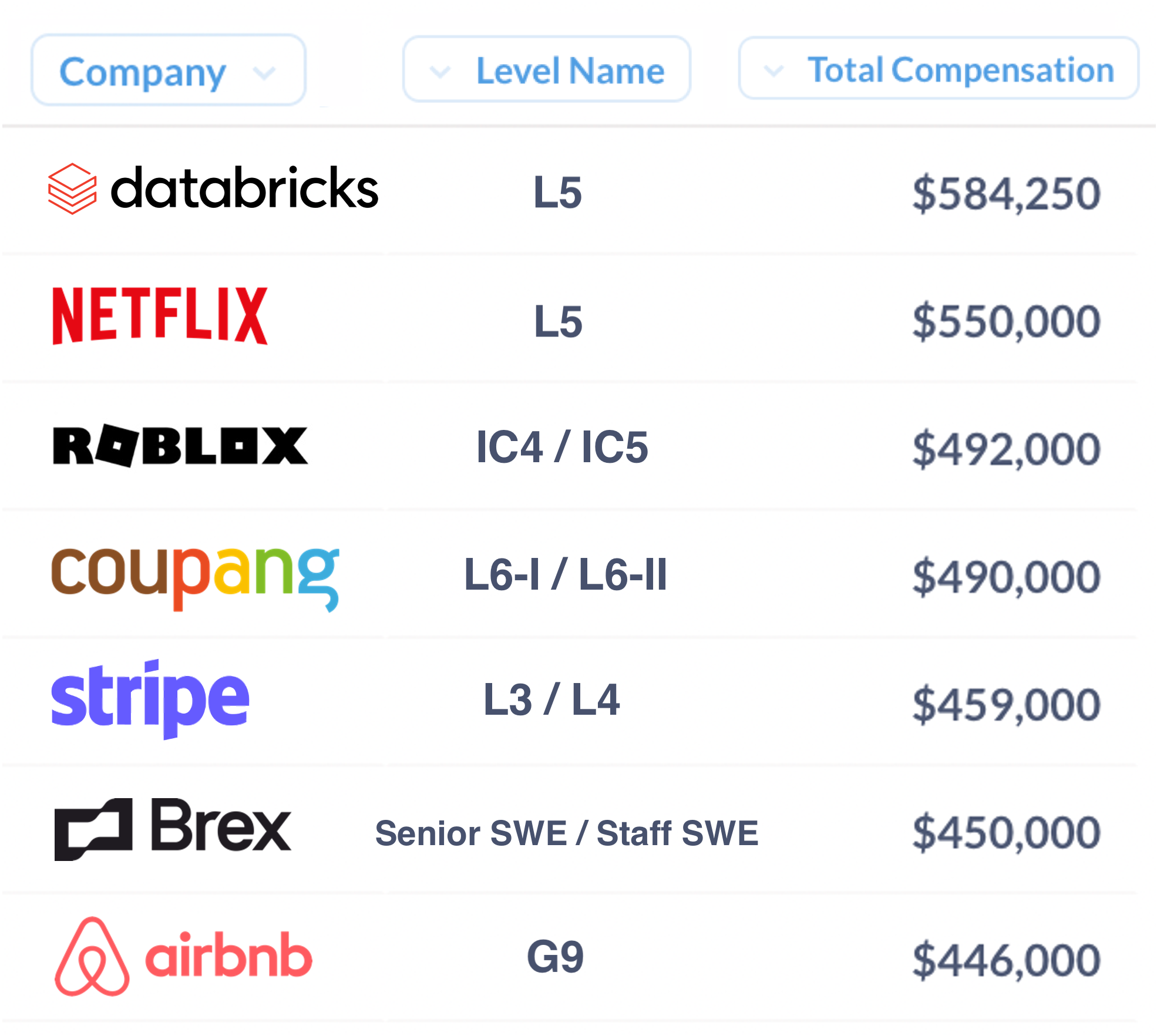 Staff Engineer (IV)
For staff engineers, OpenAI stands out with an impressive median total compensation of $925,000. Other companies such as Broadcom, LinkedIn, Stripe, Plaid, Roblox and Cruise also make the list.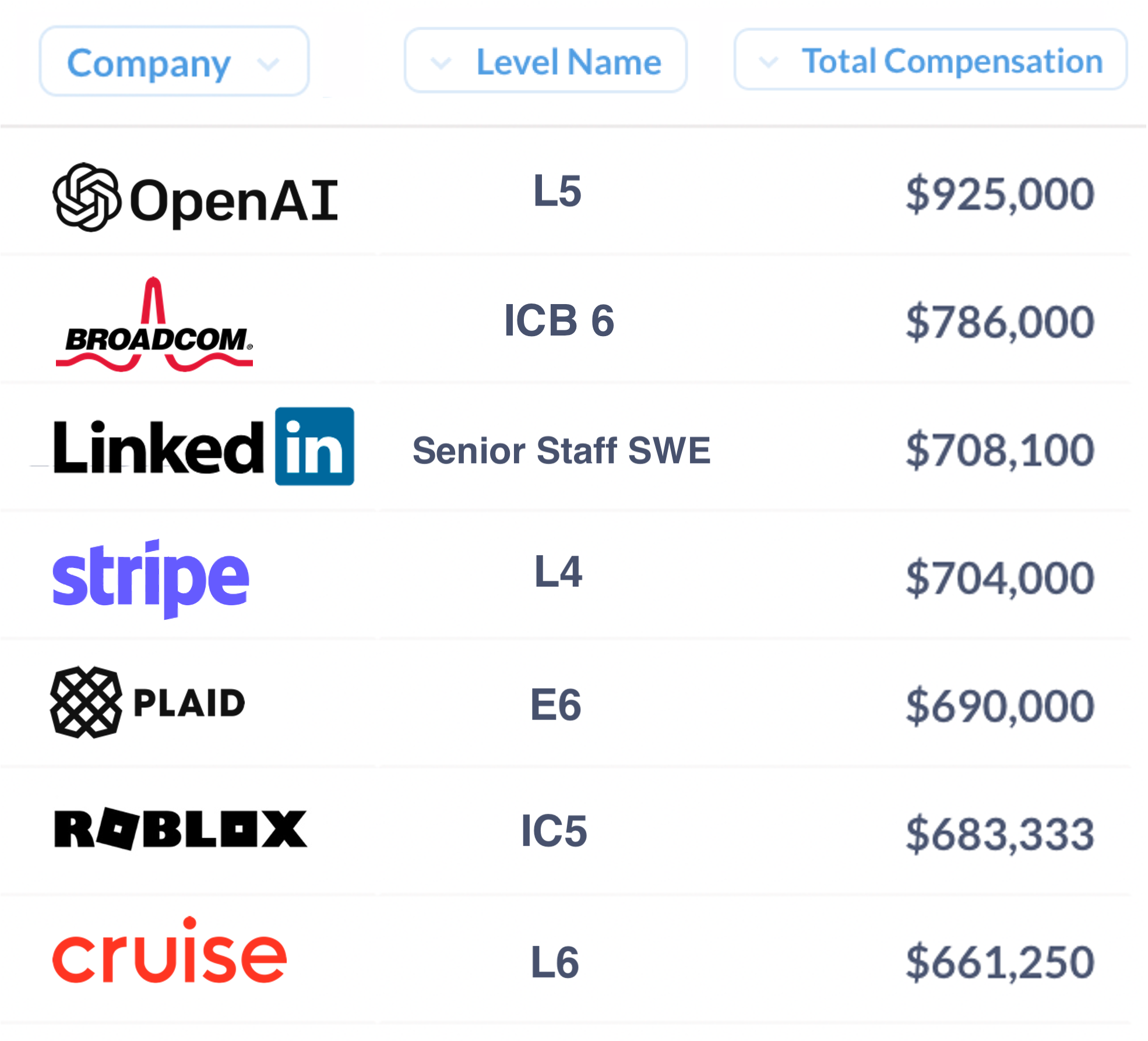 Principal Engineer (V)
Top pay for principal engineers is led by Facebook, offering a high median total compensation of $978,000. Note that this level is representative of a much smaller percentage of employees at a company and data is more sparse.
The following graphic highlights the percentage distribution of salary data points at each engineering level.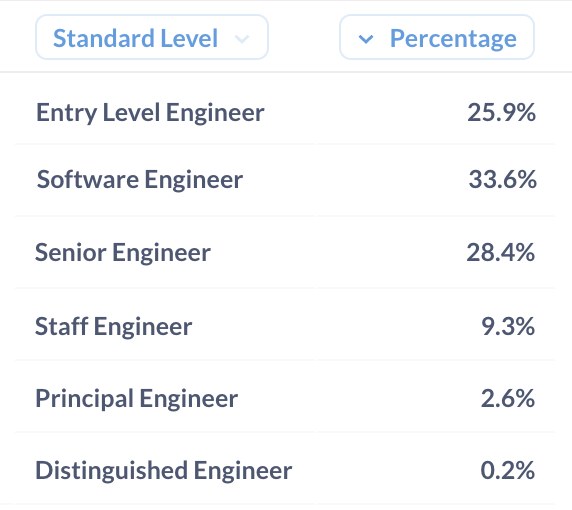 If you enjoyed this report, consider contributing your salary and signing up for an account to stay up to date and get the latest exclusive updates on the market.