Robinhood is one of the leading financial services companies, known for pioneering commission-free trades. Ever since its founding in April 2013, the company has maintained itself to be a Safety-First company by promising six commitments to its customers: no commission fees, extra protection, high-security standards, dedicated support, transparency, and quality execution.
On our End of Year Pay Report for 2021, Robinhood appeared as a top employer for entry-level engineers, mid-level engineers, and senior engineers, making Robinhood an appealing employer for many. Robinhood has also received a handful of recognitions in regards to the workplace provided to its employees. LinkedIn ranked Robinhood as one of the Top Startups in 2020. Additionally, both Fortune Best Workplaces in the Bay Area and Fortune Best Workplaces for Millennials placed Robinhood on their lists for 2021.

Culture
Robinhood's mission is to democratize finance and make investments accessible for everyone. To be the right fit for Robinhood, one would have to believe in the same mission and make that their drive and purpose. The company moves fast to deploy ideas into actual features so the company is consistently expanding its teams with impactful builders, doers, and thinkers.
Immersive Onboarding
Robinhood's onboarding program is called Camp Sherwood and introduces the company's strong and inclusive culture to new hires. Prior to the pandemic, new hires would spend their first two days going through the immersive onboarding program. As a remote-first workplace now, Robinhood sends laptops to their new hires to experience the onboarding program. In addition to getting a laptop, each new hire is also welcomed with welcome gifts and personalized swag packages.
For the remote version of Camp Sherwood, the new hires are divided into groups of six to eight people on Zoom, then paired with various Robinhood leaders. The new hires learn about the company's culture, mission, and products from the leaders. Since Robinhood is a financial services company, the onboarding experience will also include security and compliance training.
Coffee Buddies
As one of the leaders of the fintech industry, Robinhood is also trying to promote a more inclusive industry. To create a more inclusive workspace, Robinhood created a company tradition called "Coffee Buddies". Coffee Buddies allows every employee to meet and connect with people from other teams and offices. Every two weeks, each employee who has opted in to the program will be paired with another employee (who has also opted into Coffee Buddies) and they will be encouraged to meet or catch up.
Inclusive Communities
Another way that Robinhood is promoting diversity and inclusion is through inclusive communities. You can join communities, also known as Employee Resource Groups (ERGs), based on hobbies/interests, heritage, location, and so much more. If you have an interest but don't see it represented, then you are welcome to start a group around it.
Examples of existing Robinhood Employee Resource Groups:
Asianhood
Black Excellence
Brain Body Heart
Divergent
Latinhood
Parenthood
Rainbowhood
Robinhood Veterans
Sisterhood
Women in Tech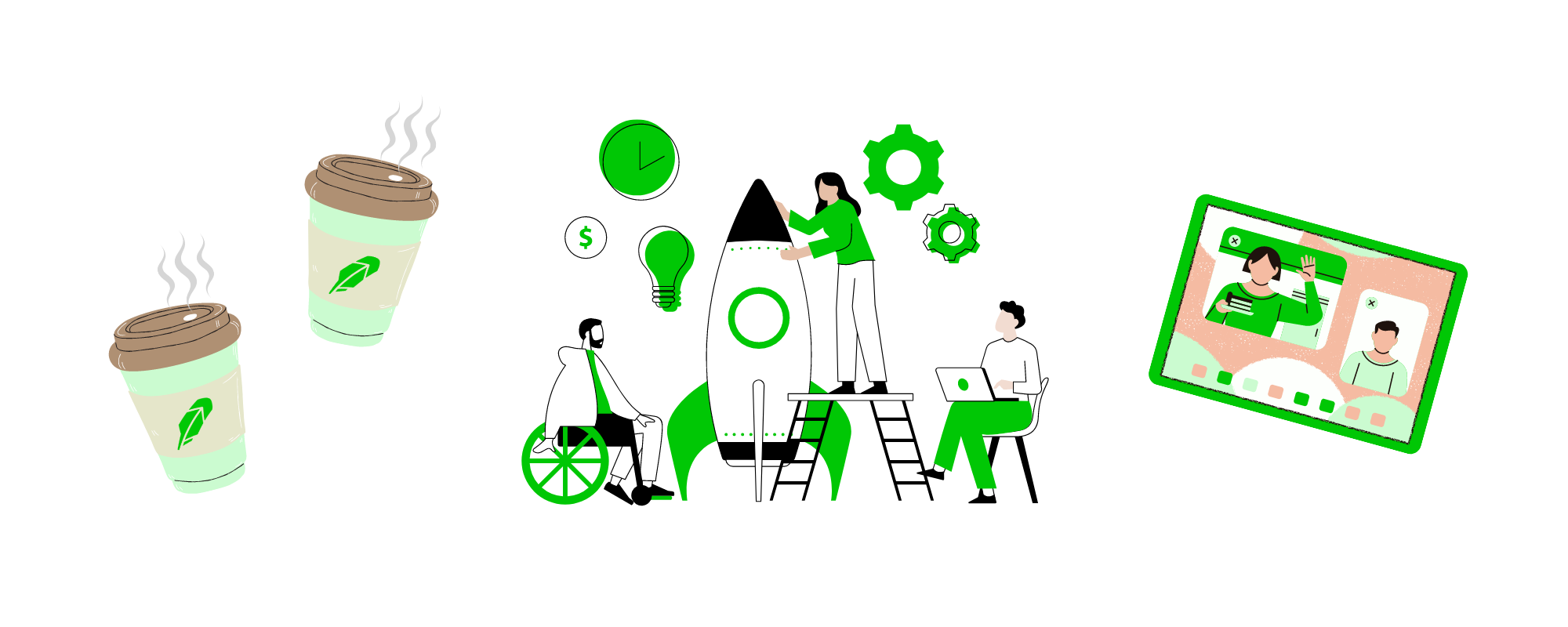 Benefits and Perks
Check out the company's continuously-updated list of benefits here.
Health and Wellness, including Mental Health Benefits
HSA/FSA and Dependent Care FSA
Health/Dental/Vision Insurance (100% premium covered for you and your dependent children)
Fitness Subsidies ($100 per month)
Life Insurance
Accidental Death and Dismemberment (AD&D) Insurance (3x Salary up to $750,000)
Short-Term Disability Insurance
Long-Term Disability Insurance
Vacation and Time Off
Leave of Absence
Personal/Sick Days (unlimited)
Paid Holidays
Paid Vacation (20 days & up to 40 hours for mental rest)
Paid Family Leave (Up to 20 weeks)
Maternity/Paternity Leave
Financial and Retirement
Relocation Assistance
Company Equity
401(k) with Company Matching (100% match on the first 3% of base salary)
Backup Childcare Stipend ($1000 Urbansitter credit)
Fertility/Adoption Assistance ($25,000 lifetime max)
Professional Development
Learning and Development Stipend
Tuition Reimbursement ($1,000/year)
Lunch and Learns
Office Life and Perks
Commuter Benefits Program
Pet-Friendly Office
Free Snacks
Free Meals (Breakfast, Lunch, and Dinner 5 days per week)
On-Site Fitness Classes
Company Shuttle
Remote Work Opportunities
WFH Setup ($1,000 stipend)
Internet ($50/month)
---
About The Author
Eva is a software engineer in the fintech space. She transitioned from retail banking into tech by going through a coding bootcamp and loves helping others transition into tech.