Amazon allows candidates to track their progress through an applicant portal. Here's everything you need to know about their online application process.
Applying to Amazon? Like their ecommerce platform, the Amazon job portal is user-friendly, and the application and recruiting process is straightforward. Generally, there are four steps in the recruitment process:
Online Application
Assessments
Phone Interview
In-person Interview
Let's focus on part one, the Online Application. Amazon provides candidates with a portal where they may monitor and track their progress on active applications. The portal also archives roles for which candidates are no longer being considered.
After you complete the online application, you will receive an automated email with a link connecting you directly to the portal. The email will look like this:

Under the application portal, you'll see two categories: Active and Archived. Active applications will be labeled either application submitted (which means pending review), or under consideration (still good news).
Here is an illustration:
Your application status should be updated as your application is reviewed, which is then reflected in your applicant portal.
There are three labels:
Application submitted
Under consideration
No longer under consideration
As soon as you apply, your application will be logged under active applications as application submitted. Submitted applications are reviewed by teams of recruiting professionals trained to spot key words and experience applicable to the role you applied to. If your application is deemed appropriate, you will likely be contacted by a Recruiter for an initial screening call.
In theory, your status should then be updated to Under Consideration. However, the technology is only as good as the team on the other side of the screen. This means, if the Recruiter forgets to update the system, the status will not update in your portal even if you are moving forward in the process.
If your application is reviewed, and the recruiting team decides to not move forward, the status will be updated to no longer under consideration. You may find that your application remains under consideration for an extended period of time. There are a few reasons this may occur.
The recruiting team may find that your skill set is valuable to Amazon, but may not be right for the specific role you applied for. In this case, they may share your resume with other teams to see if there is an appropriate role available. While other teams are considering your profile, the status should remain as under consideration. Or, it could simply be your resume is being considered along with hundreds of other contenders, and it takes time to work through the backlog.
Keep in mind, Amazon's policy states that that they only contact candidates they are interested in interviewing, so there is a high probability that you will never be contacted by a Recruiter. Regardless, your application status should be updated to no longer under consideration.
Once this status update is made, that application will be logged under archived applications.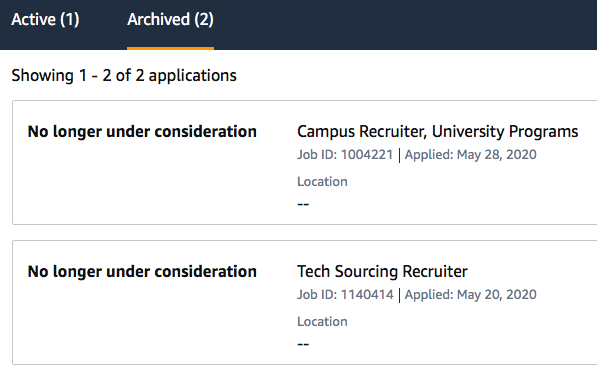 Amazon's job application portal was recently updated to correct an application labeling issue. If you applied to Amazon in the past, you may be familiar with the infamous "bug" in the application system. The former updates and labels were misleading. When candidates applied for roles and were contacted by Recruiters, the portal read, under consideration, which was correct. However, when a candidate was no longer being considered, and the application was rejected, the status was then updated to application submitted. The label progression was illogical, and led to candidate confusion. The issue was recently rectified, and appears to be functioning at this time.
Here's a brief summary of the labels and which part of the interview process they cover:

Although the application portal can be a convenient way to track your progress, there is also for errors. The system must be manually updated, and occasionally mistakes are made. Usually, it's best to rely on your Recruiter for updates. If you think too much time has passed without an update, follow up! Recruiters are meant to be your partners, and it's advisable to use them as resources throughout the process.
Interviewing well is a skill, and like any well-honed skill it must be practiced! If you're preparing for an Amazon interview, check out this article on Amazon's Leadership Principles to help you craft well thought out interview responses.