Remember when booking a hotel was the only housing option when you had to travel? Being in a hotel has its benefits but it oftentimes could make the traveler feel like an outsider. Nowadays, it is easier to feel like you're more part of the community you're visiting by booking an Airbnb.
The idea for the company started when co-founders, Brian Chesky and Joe Gebbia needed a way to pay rent and decided to host three guests in their apartment for a design conference in 2007. Hosting still remains as one of the core values of Airbnb. Traveling often makes one feel like an outsider, but Airbnb believes that it can change the experience by creating a sense of belonging. The connection to the place and community starts with the host and the guest is able to enjoy a personal experience.

Culture
Airbnb understands the importance of employee retention, so the company's culture is centered around creating the best workplace for its employees. The company is committed to building a world where anyone can feel a sense of belonging.
The first step to doing that is by building an inclusive workplace. According to Airbnb's Q4 2020 Shareholder Letter, the company announced two goals. One of them is to have 20% of U.S. employees from underrepresented minorities by the end of 2025. The second goal is to have half of its global employees, who identify as women, at every level.
To further create the most inclusive and best possible workplace, Airbnb embraces four core values:
Champion the Mission - Understand the mission to create a world where anyone can belong anywhere
Be a Host - Be caring, open, and encouraging
Embrace the Adventure - Stay curious/creative and optimistic and believe that everyone can continue to grow
Be a "Cereal" Entrepreneur - Be determined and creative to transform ambitions into reality
Work From Anywhere
On April 28, 2022, Chesky announced that all Airbnb employees can live and work from anywhere. To be fully flexible, Airbnb is keeping its offices open, so employees can still return to the office whenever they want to. Additionally, employees can move anywhere in the country they work in and their compensation won't change. Knowing that being a remote-first work environment will lessen the in-person interactions, Airbnb will schedule meaningful in-person gatherings throughout the year to keep its employees connected.
Open Kitchen
The purpose of an in-office is to allow in-person cooperation between the employees. To build trust and establish connections, Airbnb has an open kitchen, where lunch is served daily by a chef. Once the food is ready, the chef rings the bell to let the employees know it is time to start gathering for social lunchtime.
Homey Office
Airbnb wants its employees to feel relaxed while at work. Many of its conference rooms are each modeled after a popular Airbnb listing, so it creates the feeling of traveling and being in a different city!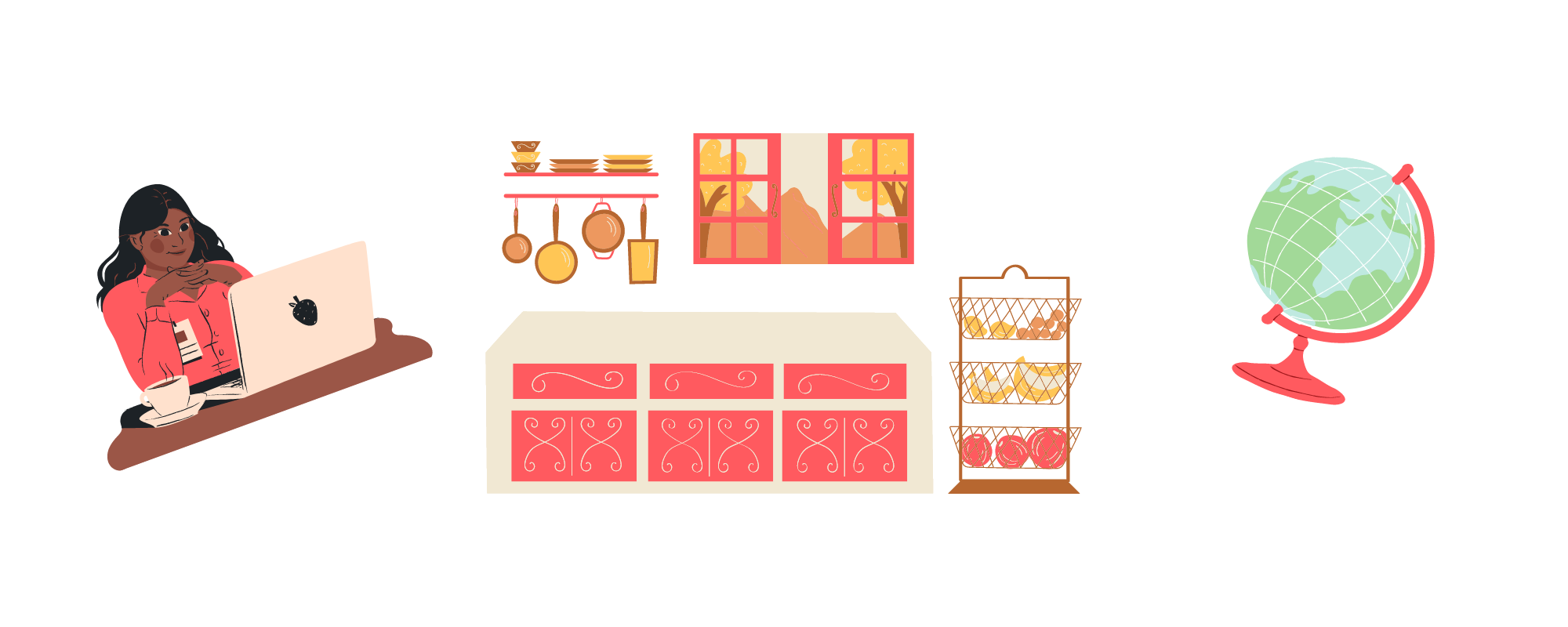 Benefits and Perks
Check out the company's continuously-updated list of benefits here.
Health and Wellness
FSA/HSA
Health/Dental/Vision Insurance (100% for individual coverage)
Life Insurance
Accidental Death and Dismemberment (AD&D) Insurance
Short-Term Disability Insurance
Long-Term Disability Insurance
Mental Health Care
Vacation and Time Off
Paid Volunteer Time Off
Maternity Leave (22 weeks)
Paternity Leave (10 weeks)
Paid Vacation/Personal Days (15 days)
Sick Time (5 days)
Sabbatical (provided at 5 & 10 year anniversaries)
Financial and Retirement
Company Equity
401(k) with Company Matching (50% match on the first 6% of base salary)
Adoption/Fertility Assistance
Office Life and Perks
Employee Credit ($500)
Travel Stipend ($2,000 annually)
Diversity, Equity, and Inclusion Programs/Events
Pet-Friendly Office
Drinks & Snacks
Meals Provided (breakfast/lunch 5 days per week, dinner 4 days per week)
On-Site Fitness Classes/Gym
Remote Work Opportunities
---
About The Author
Eva is a software engineer in the fintech space. She transitioned from retail banking into tech by going through a coding bootcamp and loves helping others transition into tech.